What is an online accountant?
Sorry for stating the obvious, but an online accountant does all the things that a 'traditional' accountant would do, except they do it online!
Here we're looking at the things an accountant would do for a small limited company, as that's what Nimble Accounting specialise in – we don't work with sole traders or partnerships.
Of course, not all accountants do all of these things, but it gives you an idea of the sort of things you'd need, and whether it's something you need an accountant for.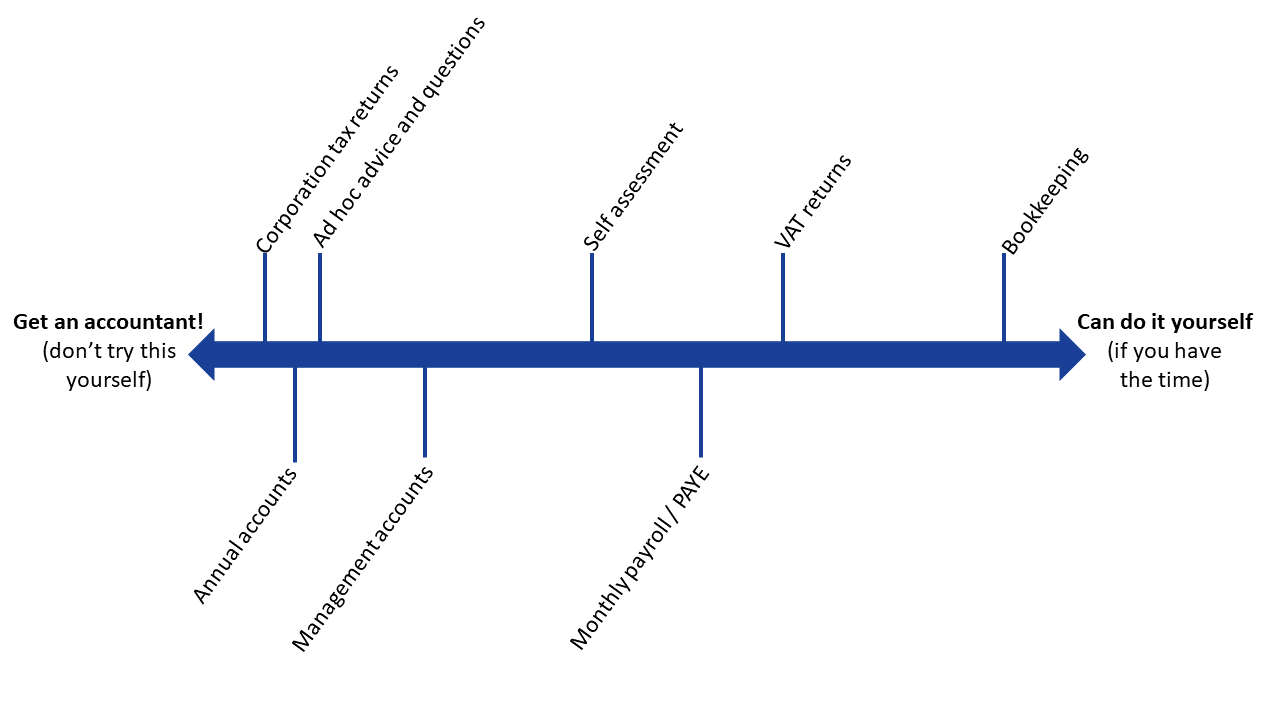 Online accountant vs traditional accountant?
Now that we know what an online accountant is, the next question is 'what's best – an online accountant or a traditional accountant'?
HMRC and Companies House do almost everything online these days, which means an online accountant for a limited company is ideal.
In addition, most accounting software for small companies, like Quickbooks Online and Xero, are cloud-based, so having a UK online accountant based anywhere in the world works just as well as having your accountant based around the corner. That means you can get fantastic value for money.
And then there's covid-19….. We all know that this has pushed a lot of people to working remotely and online, rather than meeting face to face. Nimble have only ever worked online, and are therefore well-positioned to help clients that want to have a remote relationship with their clients.
So online accounting services are really just the same services as accounting services you'd receive from a 'bricks and mortar' accountant, except in a more seamless and efficient way, and often with better value for money.
So, if you've decided on using an online accountant, the next question is 'how do you find an online accountant in the UK'?
How to find a UK online accountant for your limited company – a checklist
There are lots of UK online accountants, who offer fairly similar services. Here's a checklist to use to help you find the best online accounting firm for you:
1.Do you want accountant-owned software, or other brands?
a) You're more 'locked in' to continue to use that online accountant if you're using their software, even if you're not happy with them
b) The software is just not as good as the likes of Quickbooks Online or Xero, which both have millions of customers globally
c) You don't have the wide variety of apps, such as Receipt Bank / Dext, to use with the 'in-house' software
2. Do you want a larger or smaller online accountant?
A large firm (like Crunch or The Accountancy Partnership) offer standardised services, with large teams. This may be good for some ltd companies, but could be seen as a downside, with a lack of personalised service, by others.
3. Do you want bookkeeping, or just the accounting side
Most UK online accountants offer bookkeeping as an extra; whether this is right for you depends on:
how confident you feel with doing bookkeeping yourself
whether you can afford the extra cost involved
whether you will have the time to keep up to date on your bookkeeping
At Nimble, we charge just £80+VAT per month for our 'Basic' package, which includes bookkeeping.
4. Is the firm a Chartered Accountant?
There are various 'types' of accounting firms, but arguably (in our slightly biased opinion) the most reputable is a Chartered Accountant, which in the UK means that the firm is a member of one of the Chartered Institutes.
Nimble are a Chartered Accountant firm, being a member of the ICAEW (Institute of Chartered Accountants of England and Wales).
Look for the ICAEW logo on the firm's website to check.
Nimble Accounting – Online Accountants for UK Limited companies
We're no 'jack of all trades' – we only take on:
Small limited companies
Owner managed
Willing to use Quickbooks Online
We also specialise in just 3 industries:
Creative industry (designers, architects etc)
Consultants & contractors
Small e-commerce
Being ignored isn't nice.
With Nimble, you have a dedicated accountant who is available by email or phone.
We always get back to your emails within 2 working days, but normally even quicker.
We're obsessed with great customer service, so we're constantly measuring our performance.
We consistently score above 8 in the Net Promoter Score (NPS) surveys of our clients.
And we have excellent reviews from our clients
We're an online UK Chartered Accountant, but we do our work from Johannesburg, South Africa.
That doesn't mean that we're the cheapest accountant and bookkeeper that you'll find, but we're sure that we do much more for your money.
Online accountant free consultation
If you're still not sure on whether an online accountant is best for your small business, then have a free consultation.
We'll take time to go through the key things that you should have in place in your limited company, to make sure you're compliant, but not paying more than you need to in tax. This includes looking at your:
PAYE status: are you paying yourself a salary, and how much would this save you?
VAT: are you registered, and if not, can I save money by registering?
Do you have impending deadlines for tax returns and annual accounts?
We hope it's clear by now that we're big advocates for finding an accountant for your UK limited companies. It's not essential, but strongly advised.
The next question is how do you find an accountant for your ltd company?
Some of the best sources are:
Or even better, get in touch with us, for a free consultation to make sure your company is set up in the right way and not paying too much in tax.
Online accounting services for a small business
Our view is that for a small business, where you as the director and owner are busy trying to make the company grow, online accounting services are the best option.
You don't have time to be travelling to your accountant's office for a sit-down meeting, when instead you could just send an email or have a call with your online accountant.
This may be different for larger businesses, but for small businesses, online accounting firms are best.
How do I send in my receipts and invoices?
If you're not VAT registered, there's no need send receipts and invoices. Instead, keep them yourself, and we'll use the bank feed in Quickbooks Online to do your bookkeeping.
If you are VAT registered, we use the Receipt Bank / Dext app. This is so much better than sending us your physical receipts. Instead, you take a quick picture on the smartphone app, and you're done!
Don't I need to see my accountant face to face?
Do you really want to 🤔? As long as you can get the same, or better, service from your accountant, do you really need to see them in person?
As an online accountant, Nimble Accounting know that responsiveness to our clients and being available when you need us is vital – we're here for your phone calls and emails, and won't leave you feeling ignored.
Is the relationship with an online accountant not as good as with a traditional accountant?
No! In fact, we get fantastic reviews and ratings from our clients as an online accountant.