ITS OUR BUSINESS TO HELP YOURS SUCCEED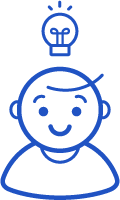 YOU'VE HAD A GREAT BUSINESS IDEA.
You're raring to get going, but you need to set up your company first.
YOU CALL NIMBLE TO SEE IF WE'D BE A GOOD FIT FOR YOUR BUSINESS.
We only take on certain types of businesses (small, owner-managed limited companies who are using, or want to use, Quickbooks Online).
YOU SIGN UP TO NIMBLE AND PAY FROM £65* PER MONTH (EXCL. VAT) BY DIRECT DEBIT.
There's no charging by the hour or even additional charges. You pay this, every month, no more, no less.
*for the compliance package; see Pricing page for details of the 4 packages we offer.
WE DO AN ONBOARDING CALL WITH YOU, TO DISCUSS YOUR BUSINESS, YOUR TAX AND YOUR NEEDS
We need to fully understand your business to set it up for success.
We call you by phone and take you through what we need to know.

WE SET YOU UP WITH A QUICKBOOKS ONLINE ACCOUNT
Quickbooks Online is the world's number 1 online accounting software, with 1.5+ million subscribers
The normal fee is £20+VAT per month – with us, it's already included in the monthly fee.
Both you and we have access to your Quickbooks account, so you can view the performance of your business at any time.
We take your current data and integrate this into your Quickbooks account.
You're up and running! What next?

YOU RAISE INVOICES FROM YOUR QUICKBOOKS ONLINE ACCOUNT
We know that businesses still want control of their client invoicing, so we guide you on how to do this.
Quickbooks Online gives you great ways to raise professional-looking invoices; we'll set this up with you.
YOU TAKE PHOTOS ON YOUR SMARTPHONE OR SCAN INVOICES AND RECEIPTS TO RECEIPT BANK
Receipt Bank then recognises these and asks you to confirm what it's recognised.
Once that's done, Receipt Bank uploads the transaction to your Quickbooks Online account.
We do your bookkeeping, your bank reconciliations, your VAT returns, your payroll and PAYE, your management accounts, your tax returns, your year end accounts and your personal tax returns.
WE CALL YOU FOR A BUSINESS REVIEW
We call you to to discuss your business finances in detail. We'll point out areas that need attention to increase growth and profitability.
We're the Finance Director you never knew you had.